So yep, meant to get to this sooner.. >> But I live in Greenville, NC now.. got broadband here, too. so that's awesome. LJ was way too slow on dial up, haha.

Things are definitely a lot better down here, that's for sure. The only thing that sucks is that I shipped my PC, and when I got it the other day.. the motherboard and graphics card were broken. Luckily, we insured it for $600, so they should give us that and I can get some new parts. Still makes me mad though, haha.

Apparently there's quite a few furries in NC, and even in Greenville. I only know Arc, and we hang out quite a bit.. dunno about the other people.

Here's some new pics of me (and Arc).. ;x You can see how much I've changed, haha.. I EVEN WEAR SMALL SHIRTS NOW.. I think I weigh like 148 or so now? o.O I've lost a lot of weight, hahaha.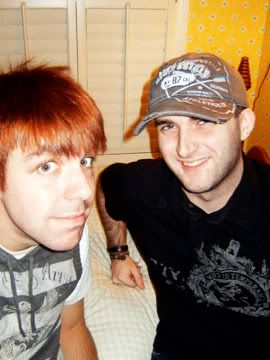 I'm on the right, obviously.. with the black shirt. Haha. ;x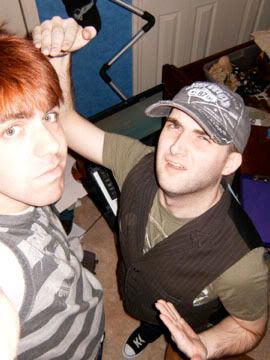 lol, SHOWS HOW SHORT I AM.

Sorry for the size, Arc's camera takes small pics, haha. ;x

Should have my PC running soon, then I can get back to art and such. Been drawing a bit, but I've got no Photoshop.. and I don't think the scanners we have would work very well on the laptop I'm using, haha.